About Champion Chiropractic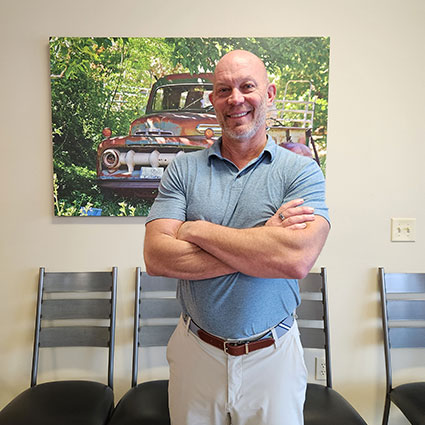 Our Philosophy
We have a simple mission at Champion Chiropractic: we want to serve you. There are few professions more gratifying than chiropractic—imagine helping people with a multitude of symptoms with only your hands, knowledge of human biomechanics, intuition and experience.
Helping patients who come to us literally crawling, in tears, and unable to function in their daily lives is rewarding, and why we do what we do. We want to help everyone get out of pain and achieve their highest health goals. Of course, there are those whose conditions are beyond our practice, but even then we will help by getting them to the right type of provider for them.
MEET DR. TODD MOORE

Our Empathetic Approach
Most patients who begin care with us are in a great deal of pain, and we recognize that. Our entire staff is kind and compassionate, and understands that people in pain are generally not in the mood to joke around. But along with that compassion and professionalism, we strive to create an atmosphere that's upbeat and hopeful—we've helped thousands of people, and we're confident in what we do, and we want that confidence and expertise to give patients the hope they've lost.
Gentle, Tailored Care
People in pain often have an understandable fear of being touched, and they may have put off receiving care because of fear that chiropractic care will hurt. That is absolutely not the case with our approach! Chiropractic adjustments should not hurt, and Dr. Todd Moore has over 23 years' experience and offers various adjusting techniques that he tailors to each person's needs, preferences and goals. People with herniated discs, osteoporosis and other conditions can rest assured that the adjustments will be extremely gentle, with no violent cracking.
For people with healthy vertebrae who enjoy a higher-force adjustment, that is also available. In every instance, Dr. Todd will provide the specific care that best suits you.
---
About Champion Chiropractic | (512) 263-0270