Spinal Decompression at Champion Chiropractic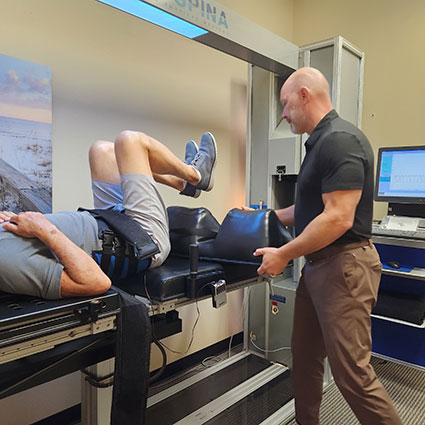 The intervertebral discs are donut-shaped spacers that act as shock absorbers within your spine. Daily life, accidents, injuries, and even gravity can cause these discs to become compressed. When that happens, the fluid inside the disc can bulge out, like when you squeeze a water balloon, and it may press on the nearby nerve roots, causing significant pain.
At Champion Chiropractic, we specialize in helping patients with disc herniations and other disc injuries. Our chiropractor, Dr. Todd Moore, has over 23 years' experience in accurately diagnosing the underlying cause of the problem and creating customized care plans to help you achieve your individual goals.
NEW PATIENTS

Our Advantage
Our practice is unique in the area: we have helped thousands of people avoid disc surgery through our state-of-the-art decompression protocol. The cornerstone of this approach is our IDD decompression bed. Your therapy will also include cold laser, magnetic and horizontal therapies, in addition to targeted chiropractic adjustments.
This comprehensive approach has been shown to be 92% effective. Of course, there are situations that fall outside our practice and in those cases, we will refer you to the appropriate provider for your specific needs.
What to Expect
Your decompression therapy sessions will last between 60 and 90 minutes. You'll begin by lying on the decompression table for 25 minutes. This computerized table gently stretches your back, relieving pressure on the discs and creating negative pressure to help pull the bulging material back into place.
Next, we'll do cold laser therapy to address any inflammation; this will last about 12 minutes. Then, for patients who do not have any metal or electrical implants in their body, we will do magnetic therapy for 8-12 minutes using our Pulsed Electromagnetic Field (PEMF) device that recharges damaged cells and tissues. We'll follow that with Hako-Med horizontal therapy that reduces pain, and finally finish up with your gentle chiropractic adjustment so you leave feeling better and in better alignment.
Book Today
Contact us today to schedule your appointment.
CONTACT US
---
Spinal Decompression Lakeway, Bee Cave, The Hills TX | (512) 263-0270